PRESS RELEASE 2 / 2019 TAKLIMAKAN RALLY
Aksu (Xinjiang/China), on May 20th 2019
AKSU > AKSU : 115 km
Liaison : 40 km
SS : 35 km
Liaison : 40 km
LAVIEILLE AND MONLEÓN FIRST LEADERS
OF 2019 TAKLIMAKAN RALLY!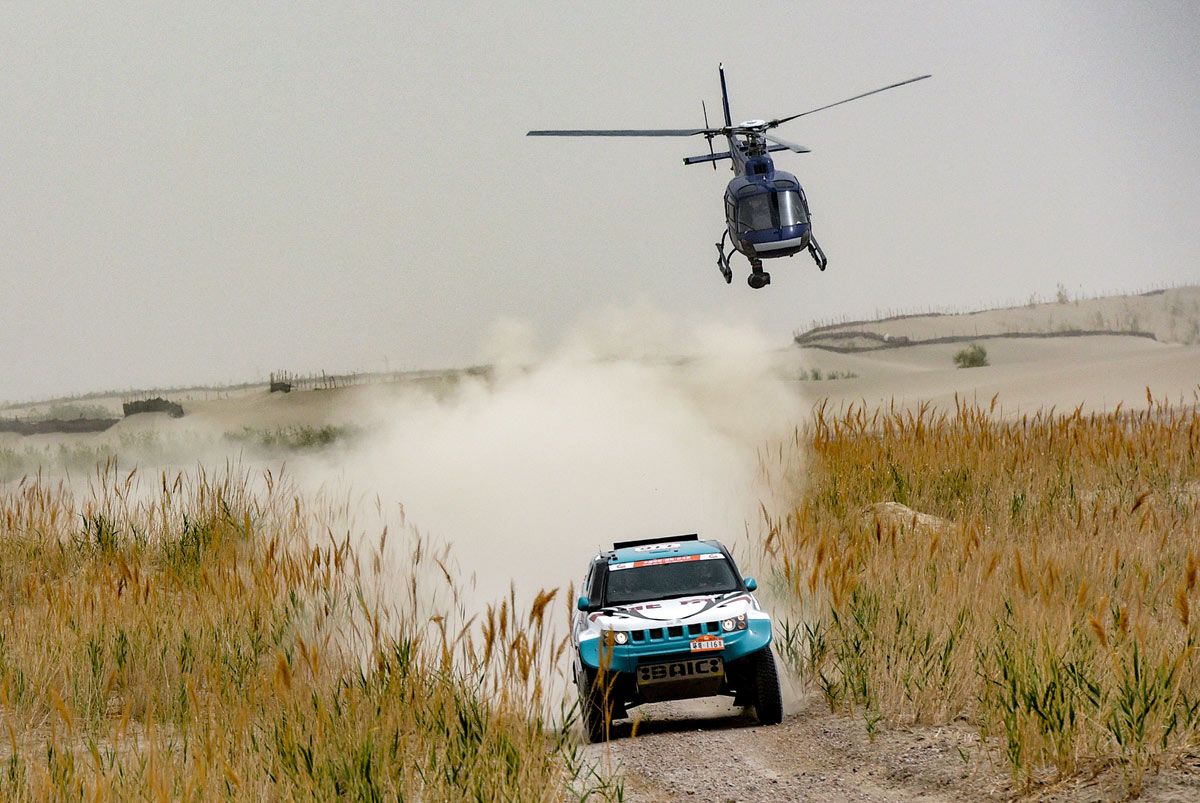 After two days of administrative and technical checks, followed by a visit on the podium, the 126 vehicles competing in the 2019 Taklimakan Rally made their first rounds today in a super special stage around Aksu. Christian Lavieille and Jean-Pierre Garcin in cars, and Armand Monleón on the motorbike won the scratch and will lead the way for stage 1.
-This first introduction, 115 kilometres long, included 35 kilometres of timed section only. This special stage, divided in two sections was mainly the opportunity for the competitors to test their machines in the varied portions of the track alternating between sandy or stony bits and at times wadis.

-2019 Taklimakan Rally started with the best possible prospects for the Lavieille/Garcin's crew (BAIC). The French duo won this special stage. "Our objective was to go for it and test our new tyres. We really enjoyed ourselves. We had a very good feeling with our car" said Christian Lavieille (BAIC). Last year's winning crew, Han Wei/ Liao Min (Geely) finished second and feel optimistic for the rest of the race. "I am convinced that our car is great. We will give our best and most importantly, we will enjoy ourselves" the Chinese driver assured. Today's podium is completed by another BAIC vehicle led by Wang Hai/Li Pengcheng, followed by their teammates Liu Yangui/Sha He in fourth position. Ma Hailong/Tian Zhen's crew (Toyota) completes the Top 5.
-As far as the two-wheelers are concerned,
Armand Monleón (KTM)
took the stage win. "I felt good on the bike. I was looking forward to starting the rally. Every year, the competition improves and I have to stay focused", said the Spanish driver who is also a triple title-holder. His teammate
Zhang Min (KTM)
finished second ahead of the Chinese
Yakena (KTM). Fang Mingji (KTM)
and
Zhou Tian (Yamaha)
, both former winners of the
Taklimakan Rally
, remain at the forefront and finish fourth and fifth, respectively.
-Tomorrow, Tuesday, May 21, the competitors will make another loop, 325.08 kilometres long around Aksu for the first proper stage of the 2019 Taklimakan Rally. The 144.23 kilometres-long timed sector looks like a tough one with many varied portions.
#NewHorizon #TaklimakanRally
Provisional classification cars SSS / Overall classification
1. Christian Lavieille (FRA) / Jean-Pierre Garcin (FRA), BAIC, 26'24''
2. Han Wei (CHN) / Liao Min (CHN), Geely, + 29''
3. Wang Hai (CHN) / Li Pengcheng (CHN), BAIC, + 35''
4. Liu Yangui (CHN) / Sha He (CHN), BAIC, + 40''
5. Ma Hailong (CHN) / Tian Zhen (CHN), Toyota, + 2'01''
Provisional classification motorbikes SSS / Overall classification
1. Armand Monleón (ESP), KTM, 30'14''
2. Zhang Min (CHN), KTM, + 2'26''
3. Yakena (CHN), KTM, + 5'04''
4. Fang Mingji (CHN), KTM, + 5'18''
5. Zhou Tian (CHN), Yamaha, + 5'41''
PHOTOS : HUZI / SONG YONGCHUAN